Luxury Boutique Ski Hotel Alexado Austria
---
Enjoy a serene and recharging atmosphere after your daily adventures. Residenz Alexado is located in the Kitzbuhel Alps, Austria.
At the edge of the charming town Worgl where you can find everything you need for fun and entertainment, surrounded by majestic mountains, lakes, waterfalls and crystal clear streams. Let the unique architecture and harmonious designs of Residenz Alexado enchant you. Experience the relaxed coziness of a private palazzo. Ideal for the solo traveler or your party of 10. Our Beauty Farm Tirol is also a well kept secret to the stars for our natural anti-aging medical treatments, such as PRP and HGH injections. Psst..
Learn More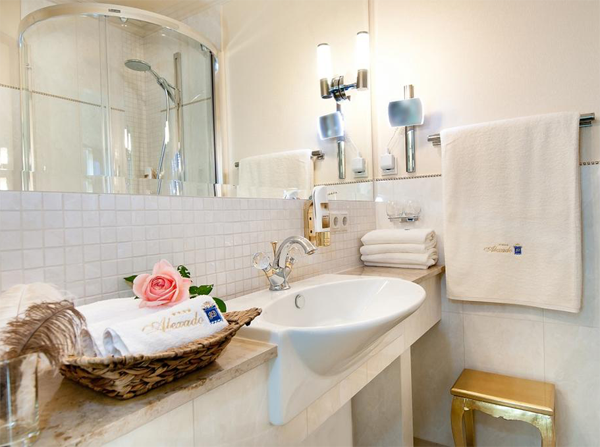 Residenz Alexado Overview
---
We offer 5 lux rooms/suites which feature beds with premium bedding. Flat-screen televisions come with cable channels. Rooms open to balconies or patios with views on the mountains. Breakfast served upon request.
View More
5 Rooms, 2 Luxury suites
Free self parking
Airport transporation
Concierge services
Daily housekeeping
Balcony or patio
Sauna
Full-service spa
Free Wi-Fi
Das Hotel ist eine traumhafte Villa mit außergewöhnlicher Architektur. Die Zimmer sind sehr gehoben ausgestattet.
Geheim Tip

Das Frühstück am Zimmer war so genial und großzügig das wir gleich nochmal eingeschlafen sind.
Exceptional

Hier wohnt man in einer Villa. Eine Oase zum Wohlfühlen.
Speciale!!!

Accoglienza col sorriso è molto professionale. Cena cucinata espressamente PER ME e di grande qualità.
The hotel is an immaculate property. The hotel only has 5 or 6 rooms which is perfect if you're looking for a quiet luxury getaway and not the large cookie cutter establishment.
Einzigartig

Sehr einzig. Jedes Detail wunderbar.