Residenz Alexado
Relax and Recharge
Overview
---
Wake up to the fresh mountain air and singing of the birds in your uniquely decorated room with it's own marble bath. Enjoy the opulent breakfast buffet with freshly made coffees and your freshly cooked eggs or cereal any style. We also offer all raw cleanses and juices for the health-conscious mind.
Cool-off in the natural swimming pond after a hike and enjoy sunbathing and lounging in the garden, while sneaking your own wild strawberries planted throughout the garden. We offer guided chi gong in the morning. Floor to ceiling windows throughout the palazzo allow you to soak in natural light wherever you are. Bring your laptop to work in the lounge areas and enjoy a glass of wine at the fireplace.
Our hotel is run on clean energy and the water from the faucets is clear untampered-with clean mountain spring water, better than any bottled water you can purchase.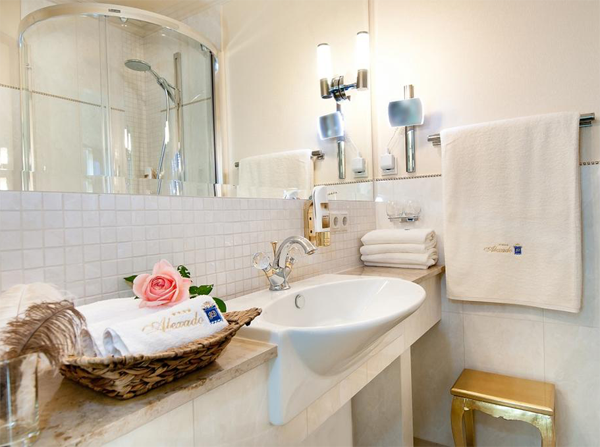 Services & Amenities
---
Take advantage of our custom build Finnish hot sauna or relax those muscles after golfing, hiking or skiing with a sports massage available at our Beauty Farm. Take a candle lit bubble bath in the jacuzzi in our honeymoon suite.
Book a pampering treatment at our on site spa. We offer massages and medical beauty treatments. How about an Anti- Aging holistic medical doctor treatment or a non surgical facelift with minimal recovery time without your friends knowing?
You will enjoy an opulent breakfast and custom cooked savoring dishes by our in-house chef. We also offer fasting and detox cures with holistic medical consultation. Gluten-free, paleo, all raw or vegetarian? We've got your needs covered. Fresh vegetables and herbs can be self picked from our garden to enjoy at your meal. Lunches and dinners can be custom cooked for you upon request.
Free Hotel Amenities
Smoke free property
Self parking
Breakfast
Outdoor natural swimming pond
Room with ski-boot and glove warmers in the winter
Lounge fireplace
Free WiFi
Luggage Storage
Finnish Hot Sauna
Open room with conference style TV
Spa and Beauty Treatments
Massages
Sports massage
Hot stone massage
Detoxification wrap
Facial treatments
Medical beauty treatments
Services Offered at Extra Charge
(please inquire when booking)
Concierge service
24 hour airport shuttle
Spa services
Special requests exceeding regular service and hours
Lunch or dinner cooked by our in house chef
Hotel Policies
---
Pets not allowed
Smoking is nowhere allowed inside the building
Hotel is not suitable for children under 11 years of age
Rollaway/extra beds are available for EUR 60 per night
Check-in: 2:00 PM
Check-out: 10:00 AM
Minimum check-in age is 18
For payment via credit card we charge 5% fee
Cancellation Policy
---
Full payment required upon booking.
Full refund will be given up to 90 days before arrival. Within 90 days of your arrival, refunds are not available.
We recommend travel insurance for our guests. Click here for more information.
House Rules
---
Dear Guests,
We would like to cordially welcome you in our Hotel Residenz Alexado and to make you familiar with our house rules. We hope they will find your understanding.
During your stay in our hotel we kindly ask you to use water and electricity in a responsible manner to safe our environment.
Consuming food and beverage brought by you is not allowed in the hotel rooms. Please feel free to place your food and beverage orders in our restaurant.
We offer power supply with 220 V.
Smoking and open fire is not allowed in the hotel. Please feel free to use the terrace. Violations will be charged 500 Euro upwards.
Visitors for your stay can be welcomed in the common lounge area, extra overnight guests have to be registered by Austrian law.
We kindly request you to inform our personnel immediately about any complaints regarding your hotel room.
We need to inform you, that damages caused by you, or theft of hotel property will be charged to you.
The Meals are served in the dining room: * Breakfast buffet from 07.00 until 10.00 a.m. / * Dinner from 18.00 until 19.00 p.m. If you would like to order a meal or you require certain diets, please inform us about your wishes at least 1 hour before your planned meal time.
Please keep your valuables locked in the safety deposit box in your hotel room, as the hotel management is not liable for any stolen or lost valuables. The manual for the safe please find in your room.
Please respect a tranquil environment after 10:00 p.m.
Please take the time to read the fire prevention advice which you can find on each floor, and follow the instructions in case of emergency.
When leaving the hotel please lock your room, as well as the entrance. Please leave your key at the reception when you check-out. If you lose the key, Euro 800.- will be charged to you.
We reserve the right to cancel the accommodation contract and refuse any service to guests not respecting our house rules, especially if the guests behaviour causes harm to other guests or damage to our hotel.
On the day of departure, we kindly request you to leave your room until 10.00 a.m. latest. If you leave after 11.00 a.m., an additional day will be charged to you.
For credit card payments a service fee of 5% is charged.
We wish you a pleasant stay in our Hotel Residenz Alexado.